Apple has introduced two new Apple Watch Pride Edition bands. For the past few years, the Cupertino-based tech giant has celebrated May as a Pride month. The company is continuing the tradition and brought two new bands.
Apple Watch Pride Edition bands are Pride Edition Sport Loop and Pride Edition Nike Sport Loop, with matching watch faces.
In support of the global LGBTQ+ community, these bands have been launched by Apple. It also launched Dynamic Pride watch faces to go with new pride-colored bands.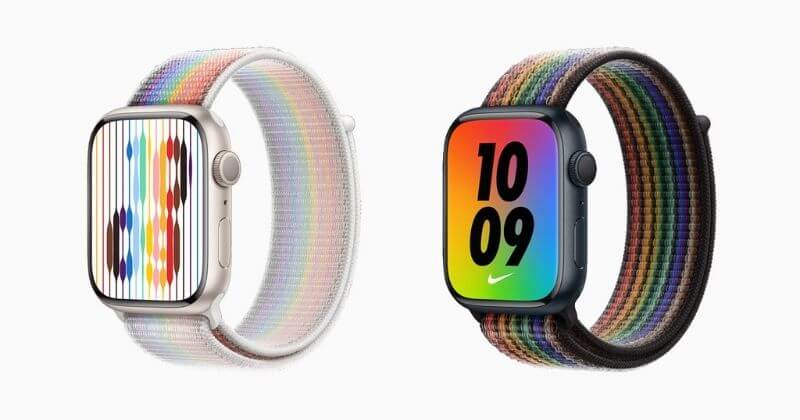 Apple is also launching a new Pride campaign on Instagram, 'Shot on iPhone.' It captures the essence of artists and figures within the global LGBTQ+ community.
For the past four years, Apple has debuted new Apple Watch Pride bands in May. Last year, on 25th May, "Pride Edition" launched Braided Solo Loop and Nike Sport Loop Apple Watch band with a new Pride watch face.
Pride Edition Sport Loop
The Pride Edition Sport Loop is designed with a new technique. It removed a few of the double-layer nylon-woven textile loops from the band.
The Sport Loop is now designed with a color gradient. The colors are from different pride flags, like light blue, pink, and white. It represents transgender and gender-nonconforming individuals. And the black and brown color shows the Latinx and black communities.
Pride Edition Nike Sport Loop
Another band, Nike Sport Loop, features a full spectrum of rainbow colors. It honors the individuals in LGBTQ+ Community who are expanding sport and inspiring others.
For both the Pride edition, Apple announced a matching rainbow-colored Nike Bounce watch face and Pride Threads watch face.
Users can download both watch faces and are compatible with Apple Watch Series 4 or above that runs on watchOS 8.6. The iPhone 6s or above running iOS 15.5 is also compatible.
Price & Availability
The price for both bands starts at $49. It is already available for sale on the official website of Apple and the Apple Store app. It will be available at Apple Stores from May 26. The Nike sport loop will also be available soon on Nike.com.